Dressing modestly in the summer is a challenge. Love it or hate it, the season surely throws a wrench into the daily task of getting dressed, especially for those of us with a penchant for a more, let's say, restrained approach to our aesthetic.
So, how do you cover up in the heat, if tanks and shorts aren't your thing?
Here are 5 easy tips to dress on trend and keep it modest as the temperatures rise:
Ditch the Jeans - sure, they go with everything, but this is one piece I subconsciously leave behind every summer with reckless abandon. It's an intuitive choice - the thick fabrics, constricting cuts (skinny jeans are the antithesis of summer wear!), and the simple fact that there are plenty of months in the remainder of the year to wear them means you should have no qualms about moving those baby blues (or your greens, or pinks) to the back of your wardrobe until fall hits. Substitute with cargoes, harem pants, palazzos, or chinos (aka man pants) - the list of loose and demure bottoms in stores these days is absolutely endless. Incorporate them into your look as an effortless and easy choice for summer.
Maximize those Maxis  - unless you've been living under a rock, you've probably noticed maxi skirts and dresses have been back in mainstream fashion for quite some time now.  Given their consistent ride in the past few years,  it's safe to say the look is here to stay! What does this mean for us, the quintessential, year-round modest dressers (who wear this look regardless of whether or not it's "in style", per se)? An abundance of choice. Prints, solids, silks, chiffons, brights, neutrals...the maxi world is your oyster. Take advantage of the fact that they now come cling-free, slit-free, and extra-roomy, the equivalent of every modest lady's wardrobe dream come true. Stock up, and rejoice that the only layer you may need to add is a slip. Just realize that whatever top you choose to pair it with, it need not be AS roomy as the one you sport with pants and jeans. Silhouette is everything, so be sure to balance your voluminous maxi bottom with a more tailored shirt or cardigan.
Shop For the Latest in Summer Fabrics - what do gauzy scarves, breathable tops, and airy bottoms all have in common? Technological advances in textiles have opened the door to delicious blends of cottons, linens, silks, and nylons which flow to perfection. Look for thin, printed pieces (solids tend to be more see-thru) which eliminate the need for that extra layer. Gone are the days of thick yet transparent linen (yuck! talk about fabric fail) which wrinkled up to the equivalent of your worst ironing nightmare, even after just one wear. And if you find that you're having a hard time scoping out a shirt in the right fabric with the right fit, you can go online and have your items custom-tailored, sleeves and all!
Love that dress but wish it came with a different neckline? CUSTOMIZE it to your style preference NOW! Shop www.eShakti.com
The High-Low Shirt - this amazing piece should be your new best friend.  It's like they designed it just for us modest girls. It comes in thin, dreamy fabrics, punch-drunk trendy colors, forgiving yet FLATTERING cuts, and covers up all the parts we need to hide. Also dubbed the "waterfall" cut, the high-front, low-back top is pretty much the perfect summer shirt.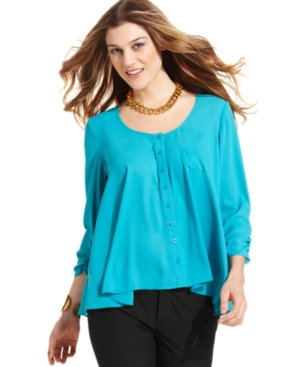 Minimize Layers By Buying the Right Items - by heeding the advice to incorporate the items above, you are essentially eliminating the need for excessive layering, the bane of every discreet girl's existence. You know all too well how it goes:  sleeves not long enough? Add an undershirt. Oh, wait...length too short? Add a big cardigan. Before even making it out the door, you're sweating in an effort to say true to your demure style. But this need not be the case any longer. If you take care to invest in the right pieces, the need for more than one layer is automatically reduced. This is because of the amazing fact that apparel out there today is looser, longer, and more modest than it has been in years. (A short while ago, jeans couldn't have gotten any tighter or lower and skirts couldn't have gotten any shorter, so fashion had no choice but to start regressing in the opposite direction. And we were right there applauding when it happened!) Updating your wardrobe with a few key items of choice is not only fun and exciting, but a crucial step in cutting out the need for multiple layers in an effort to stay covered.
And there you have it! A few easy to-do's to get your closet in shape for the heat ahead.  And please keep in mind this article is in no shape or form trying to dictate how one should dress - that's a personal choice. It's simply a guide on what to look out for from someone who has tried and tested just about everything in an effort to keep it all covered yet updated. Whatever your level of personal modesty, we can all agree it's a daunting task getting dressed and staying comfortable in the warmest months of the year. If you're in a what-to-wear rut everyday or for a special occassion and need some help, contact Style By Design by visiting our Facebook page today. For more tips and to-do's, follow SBD's blog.